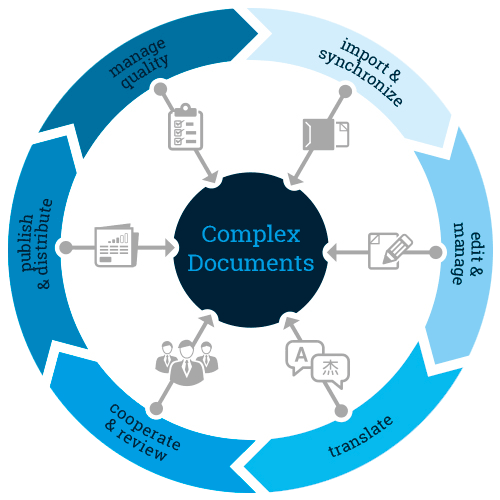 Complex
Documents
Made easy
Read More
By managing their corporate content assets as components, organizations are able to produce their technical communications in less time, with less costs, and with higher accuracy.
How do you manage your complex document challenges?
We help you to get things in control.
Provide information about 1 product with 1000 variants in 10 000 documents quickly and easily?
Create 1 document in 10 output formats and 100 languages with only a few clicks?
Collaborate worldwide to create, update and publish your documents anywhere?
Guarantee 100% consistent documentation structure and formatting wherever it appears?
Our Solution - ST4
SCHEMA ST4 is the leader in Component Content Management Systems for your technical writers and your technical documentation. A new generation of information management with content delivery for automotive, engineering, manufacturers, electronics, information technology, aviation and space industry, life science industry, and more.
Automated Reuse
Change an information only once, every reuse of it is automatically up to date.


Publishing flexibility
Layouts can be created automatically and without programming. Publish content to the desired output formats.
Translation Under Control
Make working with multilingual content easier, including languages such as Japanese or Arabic
Creating Variants Easy
Create, maintain and publish variant-rich documentation. Whether you have 3, 300, or 30,000 variants.
Download our ST4 Product Sheet
Your benefits
Using a Component Content Management System (CCMS) to manage your documentation delivers time and cost savings across a number of key business areas, from saving time during the authoring period to completely automating the laying out and delivery of documentation.
WANT TO KNOW MORE ?
40
%
Time To Market
reduction up to 40%
75
%
Layout and publishing savings up to 75%
Book a Demo and find out how we shorten your time to market and reduce cost!
Is complex document management good for you?
What are "complex documents"?
Complex documents are not created once and then archived, but are part of a life cycle process. This life cycle process is defined by one or more of the following requirements:
Publication in more than one language

Publication of more than one variant and/or format

Editing in decentralized teams

Quality assurance for documents